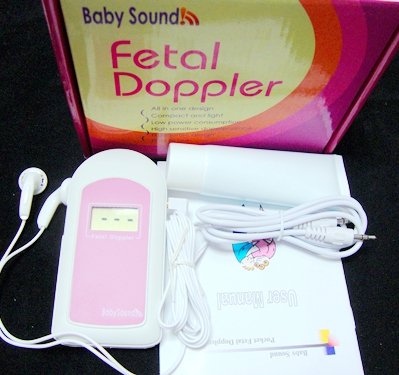 Description:

Baby Sound B Fetal Doppler is a safe and easy to use device that has been specially designed for use at home, allowing pregnant women to listen to their unborn baby's heart beat, movements and hiccups from as early as 10 to12 weeks. It is suitable for expectant mother to carry out regular checks on her baby in between routine hospital checks. It can not only reduce the expectant mother's anxiety but also allow other members of the family to listen to the baby heartbeat. This portable device is also suitable for obstetricians, midwives and pregnant women. It can connect to a computer, CD or Tape to record the baby heart sound and share your baby's heart beat with family and friends via email.

Feature:

All in one design. The probe and main units integrated together; High sensitive doppler probe. Crystal clear sound; Low power consumption; Compact and light; Ergonomic design.
Easy to use; Heart Rate Display (LCD); Automatic Display Freezing After remove from the body; Heart Rate Range 50-240 bpm; Accuracy ± 2 or 2% ; Ultrasound Frequency 2.5MHz. Output Headset with Volume Control; Double Audio Output sockets for Headset.

How it works

Approximately 9 or 10 weeks after your last menstrual period, it is possible to hear the heartbeat with this doppler. The doppler simply bounces sound waves off of your baby's heart to produce sounds. This does not hurt you or your baby. Even though you can not hear the fetal heartbeat until week 9 or 10, ultrasound is able to see a beating heart much sooner (about 6-7 WEEKS). An ultrasound can pick up the heartbeat as a "flicker" in the chest as early as four weeks after conception. Checking the fetal heart rate is one of the easiest ways to monitor your baby's health and condition.

Package Includes:

1: A free Professional Ultrasound gel (60g).
2: one Baby Sound B unit.
3: one Headset and 1 Recording Cable.
4. Instructions Manual.
5: 12 month manufacture warranty.


Warranty: One Year! Service: Whole Life!