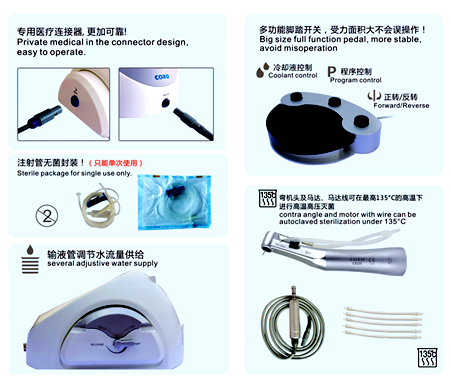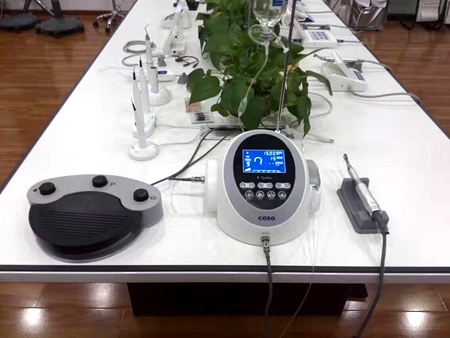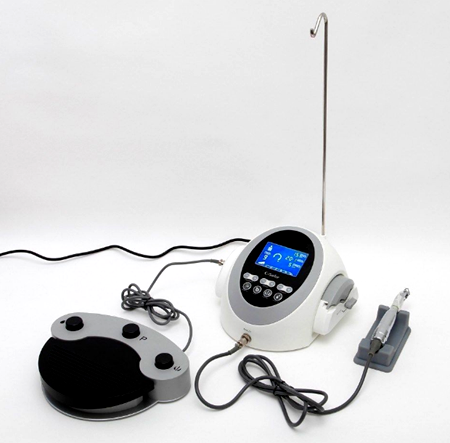 Feature:

1-Reduction geared contra angle with internal and external irrigation
-Standard push button reduction geared (20:1)contra angle
-Autoclave repeatable

2-Original switzerland surgical brushless motor
-Speed is from 300 rpm to 50000 rpm. High torque and wide speed range for all kinds of treatment.
-Maximum torque is 210w/55N.cm.Powerful torque output can be efficient cutting bone.
-Unmatched stability,no overheating, silent

3-Foot control pedal
-Multi functional foot pedal, could achieve all the operating functions.
-Easy and flexible.

4-Intelligent cooling system
-Hand control and foot control
-Inner and external channel cooling and wash
-Quiet and strong water pump
-5 speed adjustive water supply:50-100ml/min

5-High Performance control system
-Big LED Screen,control easy
-10 kinds of the reduction contra angle to choose
-10 setting program, preset the speed of air motor,cool down the liquid amount and torque, reverse and specific speed.
-Achieve stepless speed regulation

Technical:

Maximum output power:120W
Power:AC110V/60HZ;AC230V/50HZ
Adjustable torque,range:5.0-55N.cm(20:1)
BLDC Speed:300rpm-50000rpm
Infusion flow(maximum):100ml/min
Motor: Original switzerland surgical brushless motor
Volume:40cmX33cmX26.5cm

Packing List:

Major control unit
Foot Pedal
Electric wire
Motor with wire
Water supply pipe
Water supply bottle holder
Motor holder
Pipe clasp
Internal water spray nozzle
Contra angle for Implant (20:1)
Y type isocon
Fuse
Prevent steam bolt
Nozzle for contra angle
Warranty: One Year! Service: Whole Life!