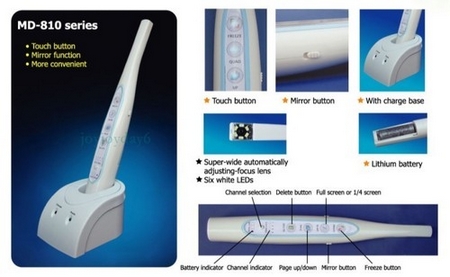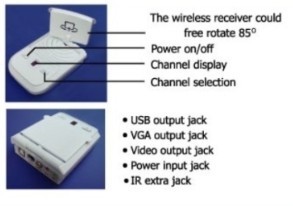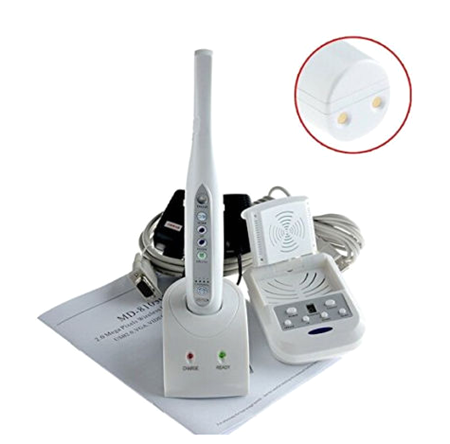 Intruduction:

This Wireless IntraOral Camera provides you with four outputs signal: USB/VGA/VIDEO(RCA) . The camera can be recharged due its build-in lithium battery. The distance of the video transmition can be up to 10 meters(33 ft). The docking box receiver can be connected to any computer, TV, Monitor or Capture Video Device. You can take excellent pictures from IntraOral cavity thanks to its Autofocus and Auto Iris lens. The camera can divide the screen into 4 (Quad mode) and totally can store into its inside memory up to 112 pictures in quad mode or 28 images in full screen. The stored images can be showed and handled using the camera control buttons, the docking box controls or the remote control.The camera can be connected directly to any T.V., computer via USB or VGA monitor.

Features:

*Model: MD8103O
*Lastest lense and sensor keep the best image resolution
*The wireless Receiver could free rotate 85 degree , in order to get the best image resolution
*Totally 4 channels .Directly choose the channels, and channel can display on the docking box
*Convenient 3 output directly, USB/Video/VGA output, Easy operation
*With Extra IR jack ( Optional)
*One and quad image can change easily
*Totally can storage 28 pcs full images or 112pcs quad images
*Touch Switchs can choose ( Optional)
*With Pedestal charger, easy operation

Specifications:

Image sensor: 1/4 sony CCD
Image resolution : 2.0 Mega pixels
Photographing visual angle: 105°
Frequency: 5.8GHz
Accumulation point: 3mm - 50mm
Lamp: 6 pcs white LED(5600K)
Output jack: USB/VGA/VIDEO
Channel selection : 4 channels
Receiving sensitivity: 95dB
Signal format: NTSC or PAL
Power supply: 1600mA Lithium Battery
Distance : More than 10m (30 feels)


Warranty: One Year! Service: Whole Life!