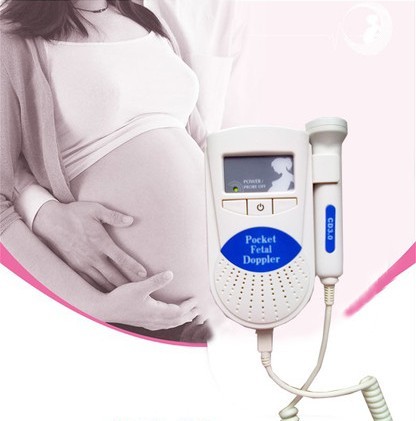 Instruction:

Sonoline A Pocket Fetal Doppler is a hand-held obstetrical unit, which can be used in hospital, clinic and home for daily self-check by pregnant woman.It contains components of ultrasonic signal transmitter and receiver, analog signals processing unit etc. It has audio output and can be connected with earphone or recorder with audio input.

Main Features:

◆ Battery LED indicator
◆ Low power inspection of the battery
◆ Built-in speaker
◆ Output for headphones
◆ The probe can be changeable
◆ Probe inspection
◆Support 2MHz,3MHz,4MHz,5MHz,8MHz probes
◆ Two pieces of standard 1.5V alkaline battery available which can work no less than 10 hours.

Main Performance:

Anti-electroshock Type: Internally powered equipmentAnti-electroshock Degree: Type B applied partPower Consumption: < 0.8 WVoltage: DC 3.0 VPower Supply:TWO 1.5V(AA size)alkaline batterySuitable Using Range: Suitable for use after the 12th week of pregnancyProbe:
Nominal Frequency: 2.0 MHz
Working Frequency: 2.0MHz ± 10%
Ultrasound Output Power: P < 10 mWUltrasonic Output Intensity: Isata < 5 mW/cm2Negative Peak Sound Pressure : p_ < 0.5 MPaWorking Mode: Continuous wave dopplerEffective Radiating Area of Transducer: 208 mm2 ± 15%

Physical Characteristic:

Dimension: (L) 135 mm × (W) 95 mm × (H ) 35 mmWeight: About 180 g (including batteries)
Qualification
Passed FDA and CE

Warranty: One Year! Service: Whole Life!