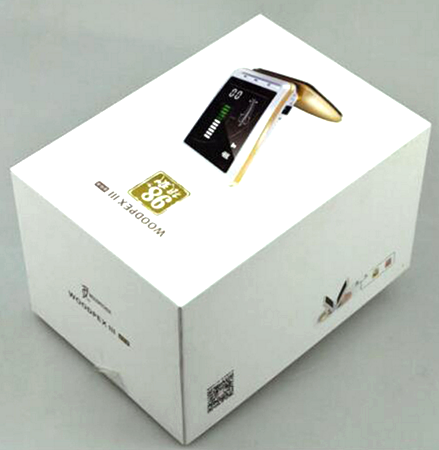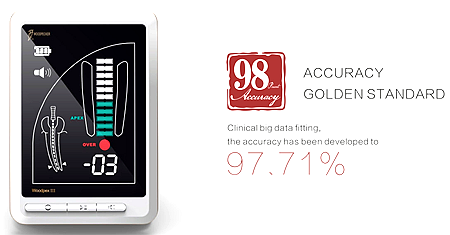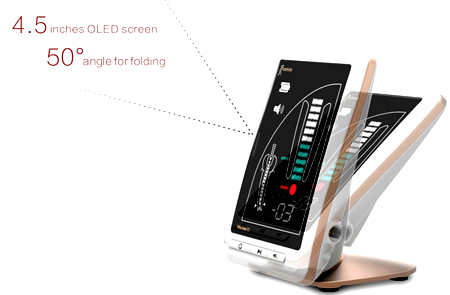 1.Clinical big data fitting,the accuracy has been developed to 97.71%.
2.During measuring,you can recognize the location by the sound.
3.Revolutionary arithmetic,multifrequency,anti-interference.
4.Multifrequency measuring technology,sutiable for the condition with blood and endodontium.
5. 4.5inch OLED screen,50°angle for folding.
6.Equipped with clear bright LCD, clear image and different color indicate the trajectory of the file clearly.
7.Based on advanced multiple frequency network impedance measurement technology and automatic calibrating ensures the measurements are accurate.
8.The accessories of the "WOODPEX III" can be autoclaved under the high temperature and high pressure. Avoiding cross infection effectively.
9.The battery is rechargeable, don't need replace the battery repeatedly.
10.Folding, easy to adjust the visual angle.




When the file reached the front region of the apical foramen, the white bars displayed.




When the file has gone to the position near by the apical foramen, the green bars displayed.




When the file has exceeded the apical forament, the red bars displayed. A continuous beep sound will be generated at the same time.

Technical Specifications:

Battery: 3.7V/750mAh
Power consumption: ≤0.5W
Screen: 4.5" LCD
Main unit weight: 336g
Dimensions: 84mm×88mm×112mm
EU and US adapter can be available.UK plug can be available.
Warranty: One Year! Service: Whole Life!