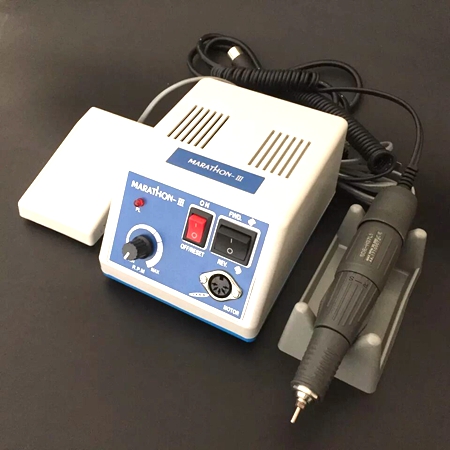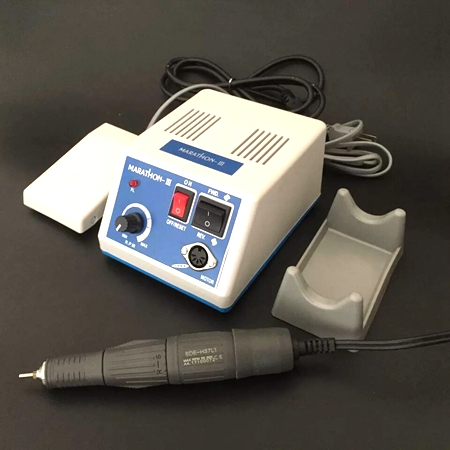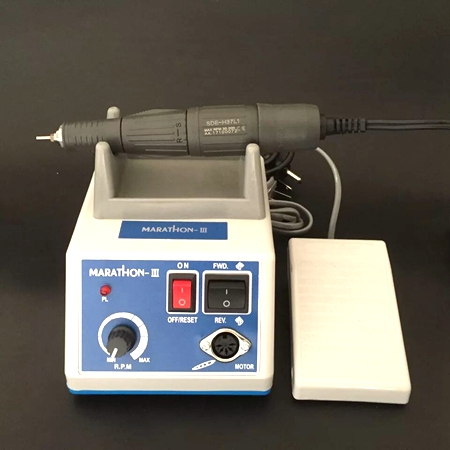 Introduction:
Multipurpose Micromotor for dental, laboratory, jewelry,industry.
Good work for polishing, Cutting, milling, trimming, grinding, casting moulds or materials and finishing surface.
Dust seal protection for excellent durability
Simple and easy operation with variable foot pedal Control system.
Installed special ball bearings for super high speed(less heat and noise)
Another virtue is non-stage speed system (it's well designed to output from 0--- 35,000rpm by using non stage speed system)
Handpiece:Simple and easy operation (twist the handle counter-clock wise to change the bur and can be easily restored back to the original position)
Specifications:
1. Contral Unit Model: N3
2. Max.35, 000 rpm
3. Powerful control box
4. Portable and compact size
5. Protective plastic cover
6. Non-stage speed dialing system
7. Forward & Reverse Switch
8. Optional On / Off Foot Pedal Witch (The pedal only a switch, not can be control the speed)
9. Safety protecting fuse
10.Voltage: <A>220V/50Hz±10% <B>110V/60Hz±10%
11.Torque:280gf.cm
Handpiece Specifications:
1. Non-load Speed: 35,000 rpm Max.
2. Collet Sleeve size: 3/32"
3. Suitable Bur Size: dia.2.35mm HP
4. Max. Power: Controller Max.
Packing List:
Power Control unit 1PC
35K R.P.M. handpiece 1PC
Foot Control system 1PC
Handpiece Support 1PC
Warranty: One Year! Service: Whole Life!