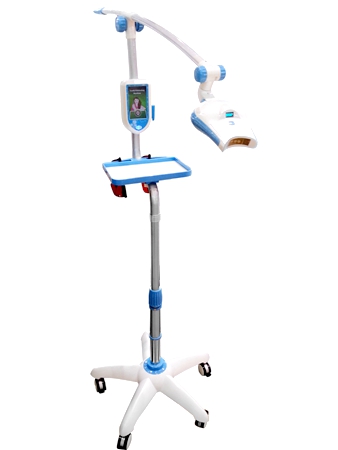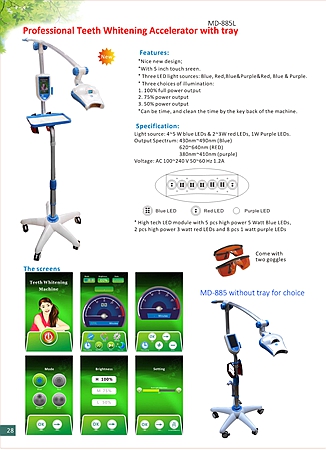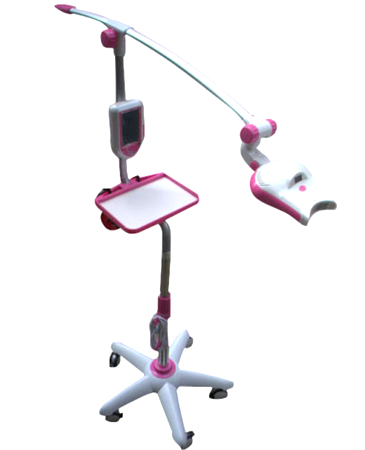 To reach better result, please read the instruction before use.
MD885L is a cooling light device could emit specific wavelength, the light irradiate a special whitening agent which is applied on the surface of the teeth so that teeth become whitening.

Feature:
*With tray is more convenient for dentist to do teeth whitening.
*High efficiency wall conjoined sliding structural design, adjust angle freely and convenient to use.
*A multi-functional high-sensitivity 5-inch touch electronic display, easy operation
*Four light source output selection: blue, red, blue + red + purple, blue + purple.
*Three-stage power output selection, users can select a different power according to the patient's condition.
*The user can select needed time according to desired treatment, time adjustment range from1 to 30 minutes..
*Work time counting function, comes with electronic lock, work time could clear by that lock for user .
*In the case of not working, the machine will go to sleep automatically after 60 seconds.
*Enclosed disposable sheath, prevent cross-infection, clean and convenient, let patient feel relieved.
Specification:
Broad Spectrum: 430nm-490nm (Blue Light)
620nm-640nm(Red Light)
380nm-400nm(Purple Light)
Voltage: 100/240 Volt, 50/60 Hz
Light source: 4-5W/pc (Blue Light)
2-3W/pc (Red Light)
1W/pc (Purple Light)
Gross Weight: 5kgs
Packing size: 70*47*22CM
Total Arm Length: 90cm
Total Height: 120cm
Distance between Teeth and Illuminator (mm) Uniformity
10mm over 95%
20mm over 90%
30mm over 85%
40mm over 80%
50mm over 75%
Accessories:
Power Cord: 1pc (length: 2m)
Goggle: 2 pairs
sheath: 20 Pcs
Mouth Retractor: 1pc
User Manual:1pc
Warranty: One Year! Service: Whole Life!