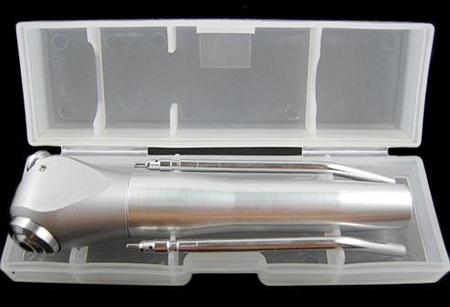 Features:

1. Water Flow Control Air Flow Control
2. It could generate mist by pressing both of volume control buttons
3. Exquisite design for dental air water syringe
4. Excellent quality Stainless, Sturdiness and Durability
5. Sterilization can be done with High-temperature and High-pressure repeated

Usage:

Dental air-water 3-way syringe with 2 nozzles in a box
The Left Button Controls the Water Flow Volum
The Right Button Controls the Air Flow Volume
Pushing Both Buttons at the Same Time Generates Mist
Handle is made from Military Aircraft-Grade Aluminum
Tips are constructed of solid alloy

Package List:

3 Way Dental Air Water Syringe x 1
Syringe Nozzles x 2
Plastic Storage Case x 1


Warranty: One Year! Service: Whole Life!