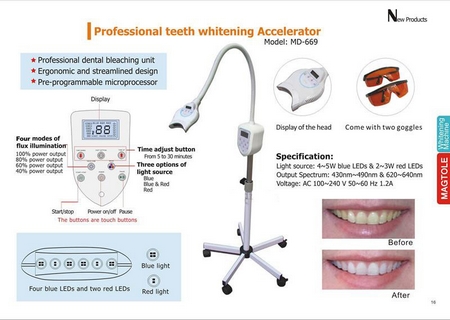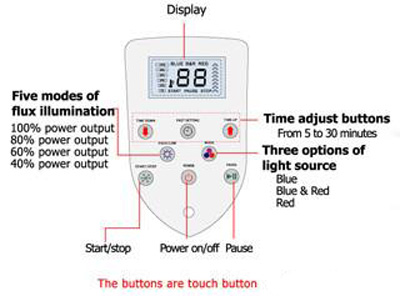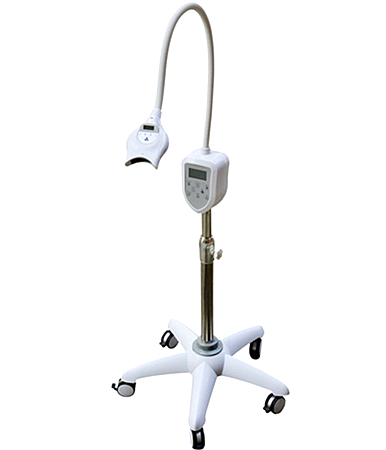 Tax Free!

Features:

* Pre-programmable microprocessor
* High efficiency goose pipe design, adjust angle at random, convenient for use
* A functional digital display panel gives more control and adjustment over the whitening application
* Four power outputs (100% 80% 60% 40% power output) and adjustable setting time for different preference
* There are three choices of light source (Blue, Blue&Red, Red)
* High tech LED module with 6 high power 3 watt LEDs (4 blue & 2red)
* User-friendly long stretched arm designed for free movement in every angle
* Built-in magnetic fan designed for high efficient & tranguile working environment as well as to prevent over heating to prolong LED with its emitling time.
* High Speed Multi-Arch Teeth Whitening System
* Enclosed disposible sheath, prevent cross- infection, clean and convenient,let patient feel relieved

Specifications:

Broad Spectrum: 430nm ~ 490nm (Blue light) & 620nm ~ 640nm (Red light)
Light Output power: Up to 2500 mW/c㎡
Voltage: AC 100-240 Volt, 50-60Hz 1.2A
Liht source: 4-5W blue LEDs & 2-3W red LEDs
Net weight: 4.7 Kgs
Gross weight: 7kgs
Package measurement: 59*61*17cm

Components:

Teeth whitening system body
2 pair * goggles
20pcs * sheath
1pc * power cord
1pc * user manual

1pc * remote control


Warranty: One Year! Service: Whole Life!