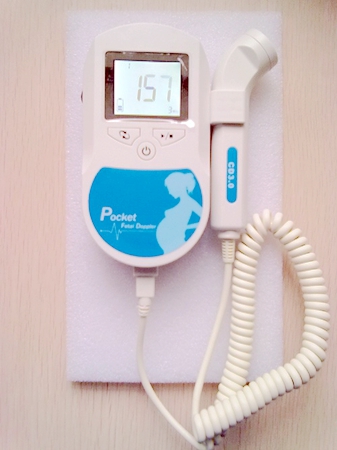 Instructions:

Pocket Fetal Doppler is a hand-held obstetrical unit, which can be used in hospital, clinic and home for daily self-check by pregnant woman.
It contains components of ultrasonic signal transmitter and receiver, analog signals processing unit, FHR calculating unit, LCD display control unit etc.It has 3 work modes: real-time FHR display mode, averaged FHR display mode, and manual mode. It also has audio output, and can be connected with earphone or recorder with audio input.

Main Features:

■Beautiful shape, portable, easy operation
■The probe has bending structure which is easy to operate and can increase the ease of the pregnant women, embodies the humane care design
■Battery status indicator
■The probe can be changeable
■Probe inspection
■Built-in speaker
■Output for headphones
■Backlight
■Auto shut off
■Two pieces of standard 1.5V alkaline battery available which can work no less than 8 hours

Main performance:

Anti-electroshock Type: Internally powered equipment
Anti-electroshock Degree: Type B applied part
LCD Display: 38 mm×28 mm
FHR Measuring Range: 50 ~240 BPM (BPM: beat per minute)
Resolution: 1 BPM
Accuracy: ±2 BPM
Power Consumption: < 0.8 W
Voltage: DC 3.0 V
Power Supply: Two 1.5V(AA size)alkaline battery
Suitable Using Range: Suitable for use after the 12th week of pregnancy
Auto Shut-OFF: After 1 minute no signal, power off automatically
Working Frequency: 2.0 MHz±10%
Ultrasound Output Power: P < 10 mW
Ultrasonic Output Intensity: Isata < 5 mW/cm2
Working Mode: Continuous wave Doppler
Effective Radiating Area of Transducer: 157 mm2±15%

Physical Characteristic:

Dimension:(L)135mm×(W)92mm×(H)29mm
Weight: About 245g (including batteries)


Warranty: One Year! Service: Whole Life!