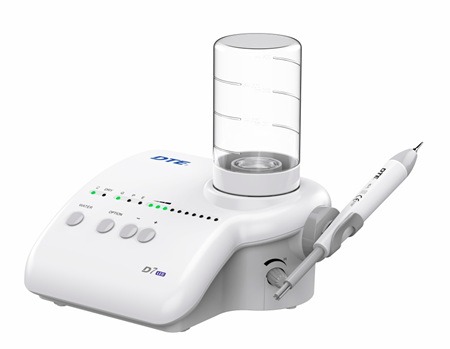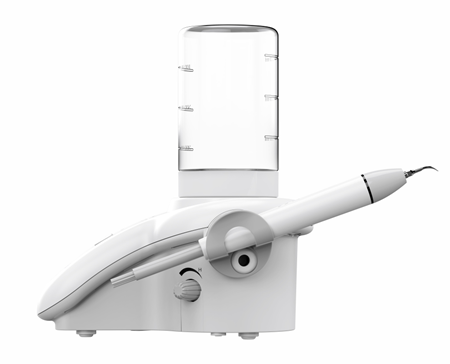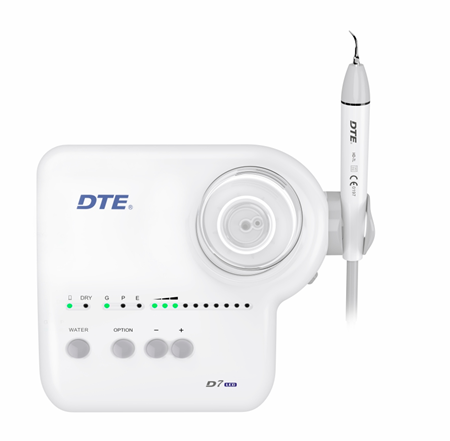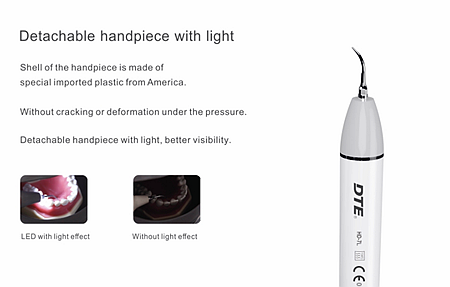 Features:

1. Multi-function: Scaling, perio and endo.
2. Two modes of water supply: purified water from outside or auto-water supply.
3. Inner water pipe made from antiseptic material
4. Optical handpiece, more convenient for clinical operation
5. The handpiece is detachable and can be autoclaved to 135℃ and 0.22MPa.
6. The handpiece is cast from Titanium alloy to ensure sound mechanic function and durability.
7. Assembled with excellent piezo-ceramic, the handpiece has high and lasting power and generates little heat.
8. The cable is made from silica gel tube, soft and durable.
9. The scaling tip is made of special material. The cavitation produced from the end of scaling tip makes the cleaning of teeth and the killing of germ easily.
10. Automatic frequency tracking ensures that the machine always works on the best frequency and performs more steadily.
11. Eliminating dental calculus, bacterial plague and tea scales on the teeth quickly without hurting the gum or the enamel.
12. Controlled by PC, easy operation and more efficient for scaling.
13. Compatible with Satelec, you could connect your Satelec handpiece with this control box, and you could also connect this Woodpecker DTE handpiece with Satelec control box.
14. CE and FDA certificated.

Technical Specifications:

Adapter input 220-240V~ 50/60Hz 150mA
Output primary tip vibration excursion ≤100μm
Output half-excursion force <2N
Output tip vibration Frequency 28kHz±3kHz
Main unit input 24V~ 1.3A
Output power 3-20 W
Main unit fuse T1.6AL, 250V
Adapter fuse T0.5AL, 250V
Weight of main unit 1.35 Kg
Weight of adapter 1.2 Kg
Protection against electric shock Class II, Type BF Dimension 237 * 206 * 95 mm
Protection against harmful ingress of water Ordinary equipment Protection degree against water (used on foot switch) IPX1

Packing List:

Main unit × 1, Detachable handpiece × 1, Power supply × 1, Foot switch × 1,
Scaling tip GD1 × 1, Scaling tip GD4 × 1, Scaling tip GD5 × 1, Scaling tip GD6 × 1,
Scaling tip PD1 × 1, Scaling tip PD3 × 1, Scaling tip PD4D × 1, Endochuck ED1 × 1,
Tip holder 2# × 1, Torque wrench × 1, Endo wrench × 1, Water proof "O" ring × 4,
Handpiece decorative ring × 1, Handpiece waterproof aprons × 1, Sealed ring × 4,
350ml water bottle × 1, 500ml water bottle × 1, Instrument manual × 1,
Qualified certificate × 1, Warranty card × 1, Packing list × 1.


Warranty: One Year! Service: Whole Life!