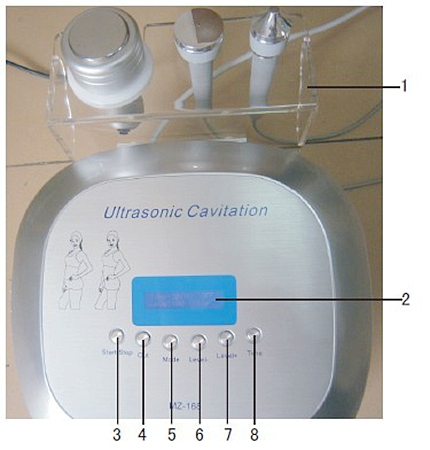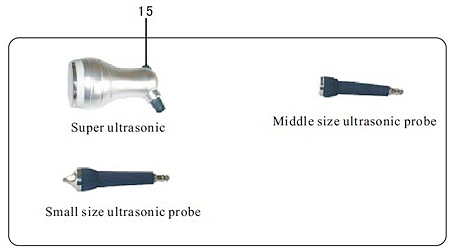 Diagram:


1. Accessories holder 2. LCD display 3. Start/Stop button
4. Output select button 5. Utrasonic working mode select button
6. Decrease intensity"-" 7. Increase intensity"+" 8. Time setting
9. Super ultrasonic output socket 10.Middle size ultrasonic probe output socket
11. Small size ultrasonic probe output socket 12. Power switch 13. Fuse base
14. Power socket 15. Manual button to "start&stop"super ultrasonic

Effection and Operation of each function:


Super ultrasonic cavitation probe
It is effctive to explode the stubborn stiff adipose group ,by the strong smpact which produced by 40khz ultrasound low frequency vibrating . It form a hole effect inside and outside the cell to produce posive and negtive changes , it makes the pressure of cell membrane inside and outside not average ,then the cell will break naturally
The super ultrasonic has warm effect , because the strong vibration will be absorbed by hypodermis and exchanged to heat energy , thus enhance the fat temperature dissolve the deep fat layer into liquid ,then follow the metabolism and excreted by lymph ,reduce fat cells volume and quantity .
1-Daub gel on the parts where has hypertrophic fat (abdomen, hip and legs),a suitable volume of gel which can let the super ultrasound probe move flexible .
2-Set working time, around 10 minutes per parts, choose a suitable level
3-Press start/stop button ,then the beautician should press the manual button, after that the probe will work
4-Beautician should hold the probe by one hand , move it as circle around or repeart move as a straight line , the another hand should push the fat to the probe.
5-Do not operate the machine on backside of person, avoid work on bone .
6-Do not do the treatment on lady's uterine position when do treatment on their belly .
Can't do belly slimming during the menstruation .
* Keep enouth gel for the treatment place , if feel painful , there may lack of gel
* Do not operate the treatment over 30 minutes everyday
7- The machine will turn off automatically when the setting time is up .
Clean the skin by warm towel and clean the probe after treatment.

Ultrasond Function:


The mechanical effect , warm effect and biochemical effect of the ultraound , can activate the celles by massage vibration, enhance the metabolism , promote the blood and lymph circulation, reach the effection of elimilation of toxincant, wrinkle removal, skin tightening and lifting, spot lighting pouch and black rim of the eye elimilation .
1- Daub medium (essence,gel,cream) on the parts after deep clean it , a suitable volume of medium which can let the ultrasound probe move flexible .
2- Set working time , according to the part where to be treated to press button (4) .choose ultrasound A (small) probe , B(middle) probe , Small probe A is working forplace around eye and nose , middle probe B is working for face and arms.
3- Choose working mode, A is continuous wave and B is discontinuous wave , adjust the intensity according to the treatment part .
4- Press start/stop button to start operation.
5- Please press the "start/stop button" (3) first to stop the machine if you want to change another probe during the treatment . Then press "4" to choose the probe you need ,press "8" to re-set time, press "6" and "7" to adjust the intensity .
6- The machine will turn off automatically when the setting time is up .
7- Clean the skin by warm towel and clean the probe after treatment.

Application Ultrasound probe Intensity Working mode Working time


Application

Ultrasound probe

Intensity

Working mode

Working time

Face lifting,
tighting and modify Wrinkle removal

middle

6-9

A
B

30 minutes

Whitening,spot lighting Eye nursing

middle

5-9

A
B

20 minutes

Black rim of the eye and pouch,eliminate

Middle,small

3-7

A

20 minutes

Sensitive skin

middle

3-5

B

10 minutes



Prohibited people, The machine is not recommended for people who has following disease :


1- Fever , infectious disease , or acute illness .
2- Heat disease , who with the heart pacemaker .
3- Severe hypertension , tumor , asthma, deep venous thrombosis , varicosity , goiter,cancer , epilepsy etc.
4- Hemorrhagic disease, trauma, angiorrhoxis (broken blood vessels), inflamed skin,dermatopath
5- Pregnant women
6- Don't working on belly during the menstrual period .
7- Medical plastic parts / the place has a metal parts .
8- The immune system function abnormal persons .

Technical Parameters:


Voltage : AC 220V/50Hz or AC110V/60Hz
Power : Less than or equal to 75W
Operating frequency : 1MHz – 40KHz

Attachments list :


1- Machine body ………………………………1
2- Power line ……………………………………1
3- Manual…………………………………………1
4- Super Ultrasonic probe ……………………1
5- Middle Ultrasound probe with wire…………1
6- Small Ultrasound probe with wire…………1
7- Accessories holder…………………………1
8- Screws ………………………………………4
Warranty: One Year! Service: Whole Life!